Ця вакансія вже завершена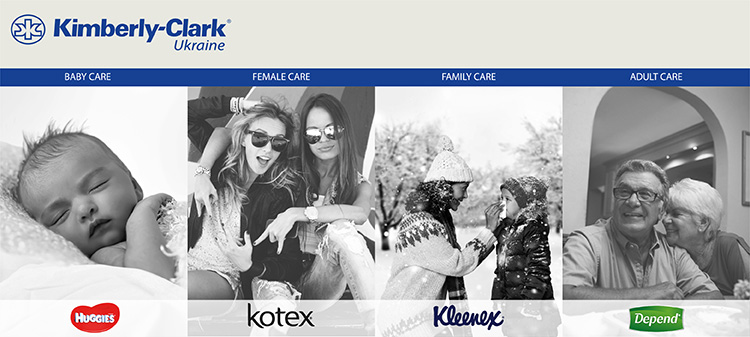 Kimberly-Clark Ukraine is part of the international company Kimberly-Clark Corp.
Kimberly-Clark Corp. is an international company with more than 145 years of history producing products for personal, professional and industrial hygiene. The business is represented by two main directions:
Products for users (Kleenex®, Huggies®, Kotex®, etc.).
Professional B2B products, made for the development of business of other companies.
Company in figures:
Year of foundation: 1872 year
More than 42,000 employees
Products sold in 175 countries
Production and offices in 37 countries
Kimberly Clark Ukraine celebrated 20 years in 2018.
Responsibilities:
Ensure strategic approach to the brand development; be ready to work under the given guidelines from head office;
Prepare short- to mid-term brand plan development - activity calendar, budgeting;
Forecast market, segments and market share dynamics;
Regularly (monthly & quarterly) analyze the market, competitors, business KPIs - outline root causes of progress, risks and opportunities for K-C brands and initiate relevant actions/projects;
Initiate proactive approach for keeping competitive advantage with brand activities and message to consumer in diverse and relevant channels;
Constantly (monthly) track the budget within given territory and sub-categories;
Ensure effective collaboration with cross functions i.e. Category & Revenue Management, Supply Chain, Finance, Legal and cross-functional teams within EMEA region;
Manage third parties for timely and qualitative execution of brand's activities;
Provide inputs for S&OP process based on planned trade activities and ensure high level of forecast accuracy;
Manage the brand P&L and deliver profitable growth according to KPIs.
Requirements:
Higher education, relevance to marketing is an advantage
Proven knowledge in integrated, focused brand plan development & execution; P&L and 4P management and control
Collaborative, Consumer oriented
Analytical skills and Creative mind-set
High energy and communication skills
Ability to lead cross-functional projects
Maturity in professional field
MS Office
fluent English is a must, fluent Russian, fluent Ukrainian.
Основные бренды "Кимберли-Кларк": Huggies, Kotex, Kleenex, Depend.
від 50 до 100 співробітників
з 2000 року на ринку
Розвозка

Оплачуване стажування

Додаткові вихідні

Віддалена робота

Гнучкий графік
Схожі вакансії по містах:
Схожі вакансії за професіями: